Progressive Cavity Pumps vs Screw Pumps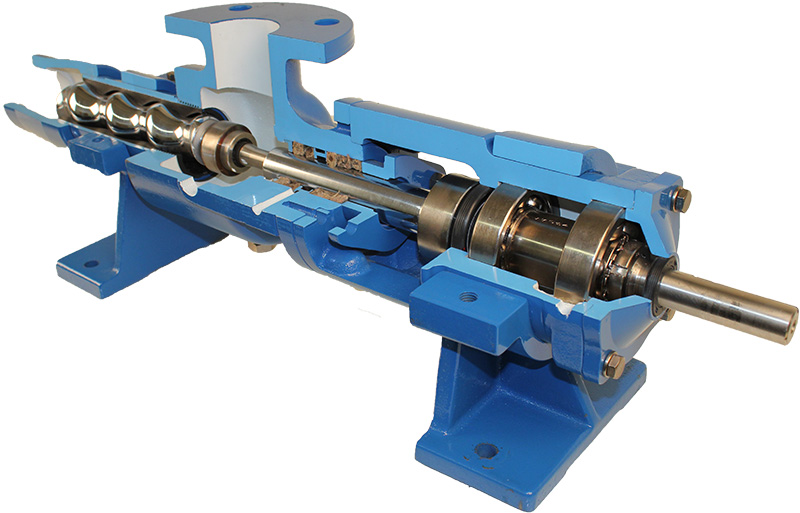 The Progressive cavity (PC) pump is a positive displacement pump. The pumping element is a single "screw" that has a round cross section and rotates inside of a stator made of rubber which has a double cross section. Cavities are created between the geometry of the rotor and stator that travel along the length when rotated, to move the fluid. There is slight interference fit between the rotor and stator which seals the cavities. The rotational speed of a progressive cavity pump is typically determined by the size of the pump and pumping application. Smaller pumps tend to run at higher RPM's, Some PC pump designs run at direct motor speeds like 1800 RPM. Most PC pumps run at reduced speeds, lower than 500 rpm. The speed is reduced by using a gearbox or v-belts between the pump and the motor.
A screw pump typically refers to a 3 rotor or 2 rotor screw pumps. These differ from a progressive cavity pump in that they are typically used for pumping lubricating fluids. Screw pumps are all metal pumps and are typically used for nonabrasive fluids. They also can pump at much higher discharge pressures that a progressive cavity pump. Screw pumps typically run at direct motor speeds.
Advantages of a Progressive Cavity Pump
The advantages of a progressive cavity pump are the ability to pump highly abrasive fluids and fluids with large solids and have reasonably long service life on these difficult pumping applications. The low speed results in low velocities through the pump and this helps extend the pump service life on abrasive applications. Progressive cavity pumps are also used for applications where the flow varies and the pump flow can be easily changed by changing the pump speed, typically by using a variable frequency drive (VFD). The progressive cavity pump is a great, low cost alternative for applications that require a measured flow. Another advantage of a progressive cavity pump is that when it is turned off, the fluid will not flow through it, it acts like a valve in this way.
Advantages of a Screw Pump
The advantages of a screw pump are they can pump at extremely high pressures. They are also very good for oil-based fluids like lube oil, fuel, oil, hydraulic oil and any hydrocarbon in refinery applications like asphalt. Screw pumps are very mechanically efficient, meaning they require much less power than a centrifugal pump, they are also very quiet in operation where noise is a concern and when properly applied, they are very reliable for long service life. High pressure applications are typically hydraulic fluid, Bearings on heavy machinery and as high-pressure coolant pumps for machine tool applications.
An advantage of both progressive cavity pumps and screw pumps is they can easily pump about the same flow no matter what the discharge pressure is or if the discharge pressure varies. Centrifugal pumps have dramatic changes in flow with changes in discharge pressure. They PC and screw pumps both have little or no pulsation. The disadvantage of both progressive cavity pumps and screw pumps is that they can not be run dry or they will be damaged. They also can not pump against a closed discharge or they will be damaged.
Contact us if you have any questions or are looking for a particular pump to fit your needs.
*Liberty Process Equipment, Inc. is not affiliated with nor distributor for Seepex®, Allweiler®, Moyno®, Tarby®, Netzsch®, or Continental Inc.® All referenced product names, brands, models, or part numbers is solely for identification purposes. Seepex® is a registered trademark of Seepex®. Moyno® and Tarby® are registered trademarks of Robins and Myers® and NOV®, Netzsch® Incorporated is a registered trademark of the Netzsch® Group, Allweiler® is a registered trademark of Colfax® Corporations Continental® Pumps is a Trademark of Continental® Ultra Pumps.