Pump Sizing Guide Recommendations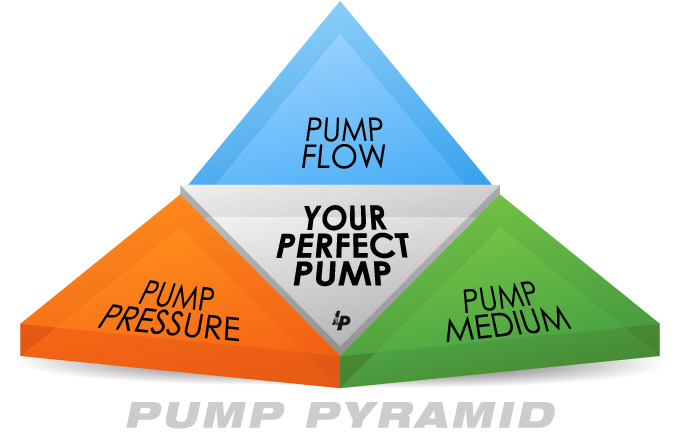 At Liberty Process, we want to make sure you choose the right pump to fit your needs. There are several steps necessary for the proper selection of a Progressive Cavity Pump. Before you begin your purchase, be sure to have the following information ready for our sales team. If you need help determining some of the specifications we're requesting, give us a call at 847-640-7867.
Please Have this Information Ready
Capacity - The desired rate of flow in gallons per minute (GPM)
Differential Pressure - The difference between the pressure required at the pump discharge and the pressure being supplied at the pump suction in pounds per square inch (PSI).
Temperature - Maximum temperature at which the product is to be pumped in Fahrenheit ° F.
Specific Gravity - Ratio of the density of the product-to-water at the pumping temperature.
Abrasion - Wear characteristics of the product based upon careful judgment of the abrasive nature of the solids in the product. The following broad classifications will serve as a base guideline:
None - Example: Clear Water
Light - Example: Dirty Water
Medium - Example: Clay slurries, Gypsum slurries, etc.
Heavy - Example: Heavy Slurries, Lapping Compounds, etc.
Viscosity - The resistance to flow expressed in Saybolts (SSU) at the pumping temperature.
Corrosion - The pH value (hydrogenation activity) of the product should be known in order to select suitable materials of construction in the pump. A pH of 0-7 is acid, pH of 7 is neutral, and a pH of 7-14 is alkaline.
Concentration of Solids - The ratio (%) of solid-to-liquid on a volume basis contained in the product. This ratio will usually determine how the characteristics of the solids influence the slurry as a whole.
Size and Nature of the Solids - The size of the largest particles the pump must handle. Are these solids similar or random in size? Are they pulpy, soft or hard, light or dense, round or jagged, fibrous or stingy, abrasive or corrosive?
Nature of the Liquid - How corrosive is the liquid? Will it lubricate the solids and reduce abrasion?
The pump characteristics create unique demands requiring careful sizing and selection to provide proper materials and pump application and longevity. Typically, they can influence pump performance as follows:
Increasing differential pressure increases pump slip
Higher Pressures require additional stator/rotor stages
Higher pressures and slip have an accelerating effect on the rate of abrasive wear
Higher temperatures affect the choice of elastomeric materials
Higher temperatures require the use of undersize rotors
As viscosity increases, the pump slip will decrease
As viscosity increases, the maximum allowable speed decreases
As viscosity increases, the maximum allowable pressure per stator/rotor stage increases
Mixed liquids and microscopic solids usually produce a non-Neutonian liquid
Many products exhibit their viscosity characteristics by virtue of a high volumetric content of finely divided solids in suspension, e.g., toothpaste, paper-coating mixes, etc.
Higher solids in suspension content decreases maximum allowable speed and pressure per stage
Soft solids (abrasive) reduces the maximum allowable pump speeds
Pumps must have sufficient cavity size to pass the largest hard particle in the product
The more abrasive the product, the lower the pump must operate
Amount of wear on an abrasive application is closely proportional to the speed squared
When contacting your Liberty Process Equipment representative with your pumping requirements, we appreciate if you already have a pump in operation to have the following information as well. Although it is not required, it will help us to identify the best possible solution(s) for your pumping requirements.
Not Required, But Helpful Information
Model of Current Progressive Cavity Pump
Serial Number of current Progressive Cavity Pump
MSDS of current medium that is being pumped
Liberty Process Equipment is here as a solution for your pumping needs, once we have the information we require we will be pleased to provide you with a quote for a pump.
Contact us with any question you may have about our pumps and aftermarket replacement pump parts. If you need help with deciding on a pump that would best suit your needs, we're always happy to help.
*Liberty Process Equipment, Inc. is not affiliated with nor distributor for Seepex®, Allweiler®, Moyno®, Tarby®, Netzsch®, or Continental Inc.® All referenced product names, brands, models, or part numbers is solely for identification purposes. Seepex® is a registered trademark of Seepex®. Moyno® and Tarby® are registered trademarks of Robins and Myers® and NOV®, Netzsch® Incorporated is a registered trademark of the Netzsch® Group, Allweiler® is a registered trademark of Colfax® Corporations Continental® Pumps is a Trademark of Continental® Ultra Pumps.